What makes the Holidays so difficult for a Picky Eater (or Problem Feeder)?
Holidays are about eating specific, traditional foods (some of which our children may not see at any other times of the year)
Holidays are about sweets (which suppress appetite faster than any other food)
Holidays are about lots of people (who our children may or may not know)
Holidays are about family members who have certain expectations about how our children should behave (and what they should be eating at meals)
Holiday Food = LOVE (if you don't eat grandma's special cranberry sauce, you are being unloving, disrespectful, rude, etc.)
Holidays are about fun, excitement, anticipation, and noise. All of which may be disorganizing for a child
Holidays are about being allowed off the normal schedule (plans change frequently, and not knowing what to expect can be disorganizing)
Holidays frequently include traveling and not being in the child's usual, safe environment (Picky eaters may not travel well, and problem feeders usually don't travel well)
Halloween Strategies
Minimize and limit changes. Limit the number of Halloween parties and events that they will attend, based on your child's age.
Generally, one family activity or Trick or Treating one time is sufficient, especially if the child has a celebration with school/daycare.
Prepare your child in advance
At least 2-4 weeks before Halloween, discuss what the plans are going to be (plan costume, events, etc.)
Prepare your 3-6-year-old by talking about how people dress up for Halloween but that their costumes are NOT REAL
Practice dressing up in non-Halloween costumes
Give your child a simple explanation about what Halloween is and how it fits with your family's beliefs.
Don't let your 3-6-year-old answer the door at Halloween
Feed your child BEFORE the event
Offer them a simple meal or snack of preferred foods before the event (try to make sure their school snack or lunch is given BEFORE the Halloween Party, and make sure you send easy to eat foods)
Make sure this meal/snack is heavy on the proteins. However, still offer a balanced meal/snack that includes 1-2 proteins, 1 starch, and 1 fruit or vegetable, plus their drink.
Trying to make kids eat challenging foods may spark power struggles in a child who may already be over-excited and not able to handle increased eating demands
Don't make participating in the Halloween event contingent on what they eat
Limit the Sweets
Allowing free access to sweets suppresses the appetite for more nutritious foods and can lead to craving more sugary foods
One small "sweet treat" a day for no more than one week after Halloween is sufficient to celebrate this Holiday
You may choose to tie how many days in a row they will get a "sweet treat" to their age. For example, if they are 3, they will get to pick one "sweet treat" once a day for 3 days in a row.
Have your child pick out which treats they want for their number of days and put those in a special place.
Do NOT make whether they get their "sweet treat" contingent on their eating. Pick a meal, after which, they automatically get their treat.
The rest of the Halloween candy goes up and out of their reach for "later" (and thrown out before the December holidays)
Make sure kids know that they need to ask first before taking their "sweet treat"
If they eat all of their "sweet treats" early, they get no more as a consequence.
We hope these strategies help make this Halloween enjoyable for you and your family!
Ask Dr. Toomey:
I have heard from a number of other people, including healthcare professionals, that all children are picky, and that they all outgrow it.  Is this true?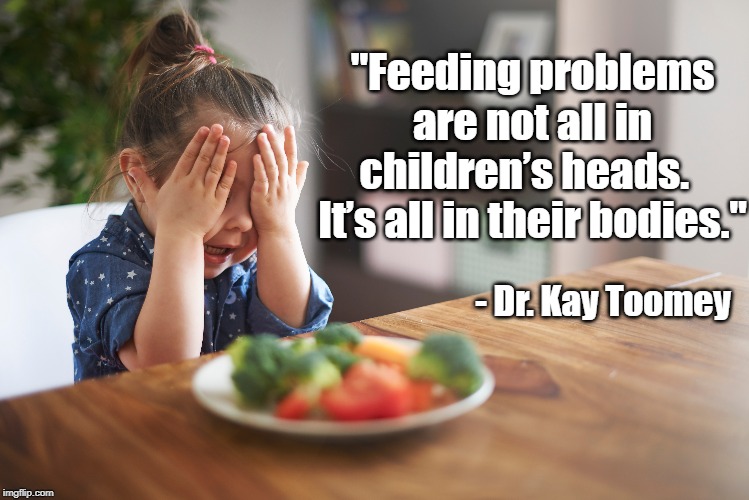 In my role as a Pediatric Psychologist, Pediatric Feeding Specialist and Developer of the SOS Approach to Feeding, I have heard this "myth" being reported frequently by well-meaning professionals trying to convince parents that they do not need to be worried about their child's eating habits. However, it is not true that all children are picky. Nor is it true that they will all outgrow it. The research in the field of Feeding Disorders actually shows that on average, only 20-30% of children will struggle with some type of feeding challenge or picky eating at some point within their first 5-6 years of life. In addition, the data indicates only about one-third to one-half of these children will actually just "outgrow" their feeding difficulties without some type of intervention (see the summary of the major research studies summaries). When you look at the statistics over time, 50 – 67% of children with picky eating challenges continue to struggle with not eating a wide enough range of foods well into their grade school years and beyond.
It is also interesting to note that these statistics are the same regardless of the child's country of origin, culture and/or parenting practices. I have been privileged to teach the SOS Approach to Feeding program both nationally and internationally and can attest to seeing the same types of feeding issues occurring in children across the entire world. I believe that we find similar feeding/eating challenges around the world, regardless of what culture a child lives in because feeding difficulties are about how the human body does or does not work correctly. My 30 years of clinical experience in assessing and treating Feeding Disorders has taught me that feeding problems are not all in children's heads. It's all in their bodies. When a child doesn't eat, we need to look for the skill deficits, developmental challenges and physical problems underlying this child's difficulty with eating or feeding well. We should not be blaming parents or saying that a child has a behavioral feeding problem.
In the SOS Approach to Feeding program, we assess and address the 7 areas of human functioning that are involved in the process of learning to eat well: organ systems; motor & oral motor abilities; sensory processing; learning history/style/capacity, development, nutrition, and environmental factors. We identify what about this child's body is not working correctly for them to gain the skills they need to eat a wide variety of nutritious foods in the right volumes to grow well. Then, we teach children and their families, the skills the child needs through "play with a purpose" of moving them up a series of 32 Steps to Eating.
Because of the research which shows that at least half of the children with feeding problems will continue to struggle with being able to eat well, I encourage all families not to wait to seek out help for their child – even if you think it is "just picky eating". The earlier families can get their child into feeding treatment, the more likely their child's issues can be fully resolved. Ideally, children will enter into therapy before 3 years of age if they are struggling to eat well.
If you are wondering if your child could benefit from feeding therapy, the following articles may be helpful for you.
Additionally, you can search and find an SOS trained feeding therapist in your area to assess your child's skills and help get back on the road to happy mealtimes.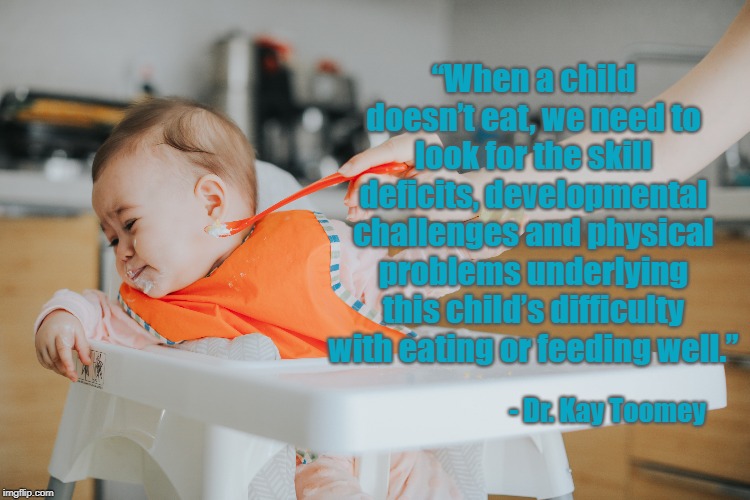 Summary of Studies:
Motion, S., Northstone, K., & Emond, A. (2001).
A longitudinal study of 14,000 children in England through the age of 7 years
31% of infants struggled with eating
Carruth, B., Ziegler, P., Gordon, A., & Barr, S. (2004).
3,000 children in the USA
Parents reported their children as "very picky"

4-6 months = 19%
7-8 months = 25%
9-11 months = 29%
12-14 months = 35%
15-18 months = 46%
19-24 months = 50%
DuBois, et.al (2007).
A longitudinal study of 1,500 children in Canada from 2.5 years to 4.5 years of age
30% of these children were reported as picky at least one-time point (2.5, 3.5 or 4.5 years old)
But at any one of the time points, only about 15% of children were reported as picky
Benjasuwantep, Chaithirayanon, Elamudomkan (2013)
402 children in Thailand, 1-4 years of age (not longitudinal)
27% of all of the children (1-4 years of age) were reported to have feeding challenges
28.1% of 12-24 month olds
26.9% of 25-36 month olds
19% of 37-48 month olds
4,000 children in the Netherlands, assessed at 1.5 years, 3 years and 6 years of age.
Parents reported their child as "picky" or "sometimes picky" at that time point.

26.5% of the children at 1.5 years of age
27.6% of all 3 year olds
13.2% of all 6 year olds

46% of the children were reported as "picky" or "sometimes picky" at least once
32% of children reported as "picky" or "sometimes picky" at 1.5 or 3 years of age had "outgrown it" by 6 years of age.